X-Robium Trading Platform
The X-Robium trading bot is an innovative trading solution for cryptocurrency investors, allowing them to quickly apply a quantitative trading method proven to passively generate high returns. Leverage an impressive track record of our high-performing trading bot to execute profitable trading decisions in competitive markets.
Automated Trading
Let trading be a form of passive income for you––no matter when or where. Our algorithmic trading bot never stops tracking, buying, and selling in your best interest
Winning Strategies
Using historical data and competitive trading approaches, X-Robium is always making the smartest trade and earning you the highest returns.
Maximum Profits
Get a minimum of a 20-30% return on your cryptocurrency investments with X-Robium.
Advanced Security
Keep your personal information and trading activity secure with multi-factor authentication, trusted APIs, and airtight security infrastructure.
Platform Features
Equipped with high-performing trading bots, X-Robium ranks as the top trading platform available on the global cryptocurrency market.
Effortless Initiation
Simply connect your X-Robium and crypto exchange accounts using an encrypted API key in order to activate your automated trading.
Backtested Trading Strategies
Using historical data, our backtesting module helps users anticipate trading bot behavior before committing any capital to the market.
Passive Trading
Automate your trade from anywhere, anytime––24/7 and 365 days a year. It never stops buying, tracking, and selling your investments to get you the highest return.
Easy & Simple User Interface
X-Robium UI is responsive, user-friendly, simple and easy to use for everyone.
Data-Driven Results
X-Robium uses thorough data analysis and applies best indicators and candlestick patterns to drive its trading decisions.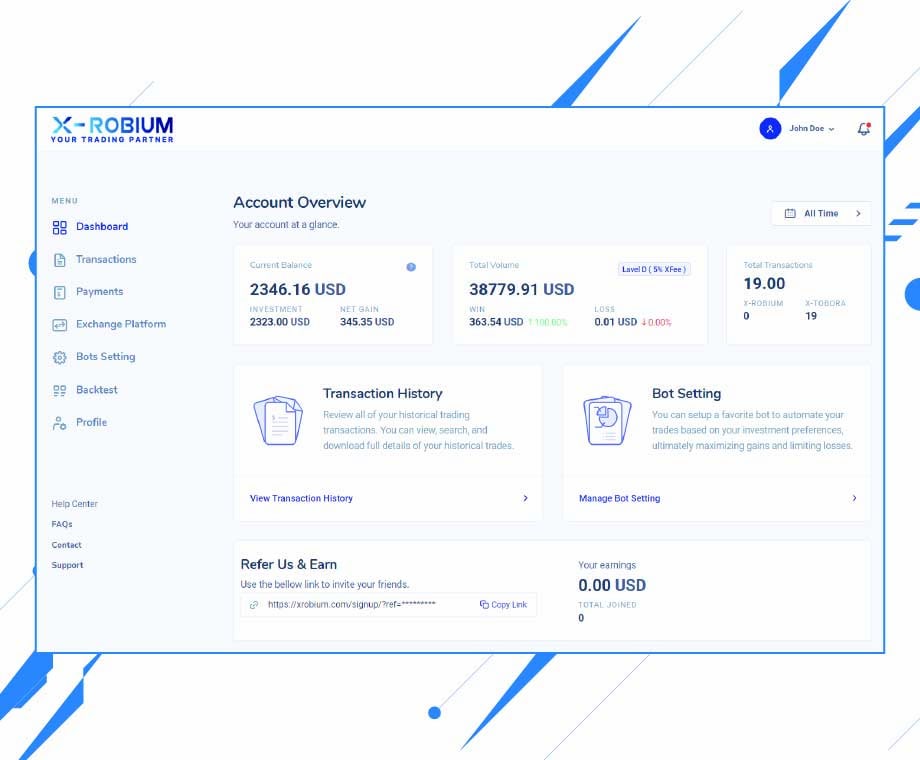 Investor Benefits
Our algorithmic trading platform takes down any barriers there are to exciting crypto exchange.
1

Impressive Returns

Maximize your profit without ever having to monitor the competitive crypto market.
2

Passive Earnings

Earn a 100% passive income while working, sleeping, or enjoying some much-needed time off.
3

Automated Trading

Automate your trade from anywhere, anytime––24/7 and 365 days a year. It never stops buying, tracking, and selling your investments to get you the highest return.
4

No Experience Required

By using advanced winning strategies, our trading bots enable anyone to trade with any kind of background in crypto.
5

Full User Control

The X-Robium platform allows investors to choose personal profit goals, manage risks of loss percentages, and leverage pre-programmed buying positions.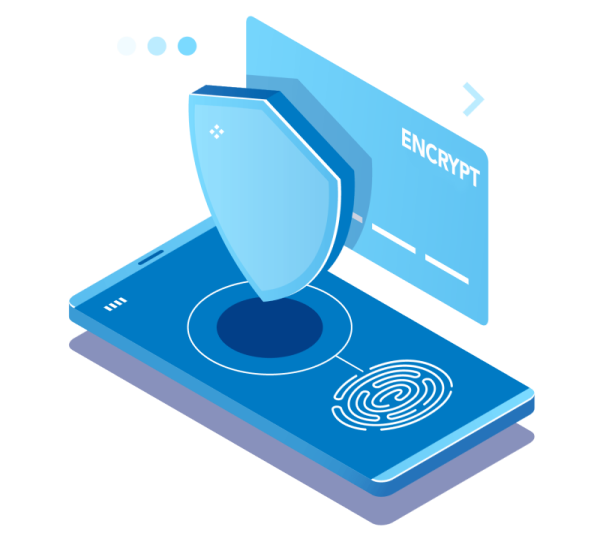 Fortified Security Measures
Trust is our commitment to our customers. We believe that security and data privacy come first as the foundation to adopt any cryptocurrency technology. To strengthen our security structure and safeguard our customers personal information, we developed the following key security features in our platform:
---
Embedded Security Structures
We embedded security measures in our coding life cycle to encrypt all customers' sensitive information. All information delivered to our servers is encrypted with 2048-bit standard protocols and stored on a firewall-protected network.
Multi-Factor Authentication
We employ two-step authentication methods in order to protect all user information, including trading activity, passwords, email addresses, phone numbers, and more.
Secure Investor Funds
To protect and secure our investors' money, we do not allow withdrawal or deposit from Kraken API when connecting to X-Robium platform. As a trading tool, X-Robium does not have access to your funds, which are kept securely in the Kraken exchange and fully encrypted with uniquely-generated API secret keys.
Secure Application Programming Interfaces (API)
Each API key is uniquely generated, securely encrypted, stored using advanced security to protect their confidentiality and integrity. X-Robium only requires the ability to read data and make trades, so your funds can't be removed from the exchange. We also encourage all users to utilize our Two-Factor Authentication ("2FA") service which secures access to your account.
How Does It Work?
Trade with your existing Kraken account
To take full advantage of our trading bot features, users can connect their Kraken exchange's account to X-Robium. When you have your API key ready from Kraken, all that's left is integrating it to the world's leading, automated crypto trading platform.
Create an account on the XROBIUM platform
Complete your one-time registration payment for lifetime access to the XROBIUM platform
Configure your unique API connection with your Kraken account
Insert your unique API key exactly as it appears on your Kraken account to ensure a successful and secure connection
Select your investment currency type (NOTE: XROBIUM currently only supports trading in USD or USDT)
Choose your preferred trading bot and complete setup tasks in their entirety
Designate your preferred investment preferences, including your stop loss value
Confirm all details and submit information to activate your trading bot
Sit back and enjoy watching trading bots do all the work for you and generate passive income
Our Pricing
X-Robium's pricing is as simple as it comes, limited to a one-time registration fee and 5% bi-weekly performance fee. No hidden fees.
$30 Registration Fee
To provide a good user experience and maintain high quality products, a one-time, non-refundable fee ($30 USD) is required before each X-Robium account can start trading.
5% of Profits
Our dedicated trading bots are working tirelessly around the clock to ensure profitable returns on your investment. Reward them with a 5% performance fee every two weeks, which is only applied to your winning trades.
Unlimited Trades
You have the power to trade anytime, anywhere and maximize your profits.
Our Partners
At X-Robium, we're dedicated to building trust with our users by partnering exclusively with widely trusted companies.